Poetry - Positive Thinking and Assertiveness
Maya Angelou (1928-2014), Still I Rise (1978)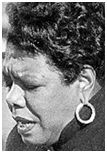 The African American poet (pictured right) asserts her rights as a black American woman:
You may write me down in history
With your bitter, twisted lies,
You may trod me in the very dirt
But still, like dust, I'll rise.
(first verse)
Susan Coolidge (1835-1905), New Every Morning (1882)

This upbeat poem was written by the American author of the What Katy Did books (real name,Sarah Chauncey Woolsey pictured right)
It has been used in a British hospice to give comfort to the terminally ill:
Every day is a fresh beginning,
Listen my soul to the glad refrain.
And, spite of old sorrows
And older sinning,
Troubles forecasted
And possible pain,
Take heart with the day and begin again.
Robert Frost (1874-1963), Dust of Snow (1920)

The American poet (pictured right) says find optimism from the small things in life:
The way a crow
Shook down on me
The dust of snow
From a hemlock tree
Has given my heart
A change of mood
And saved some part
Of a day I had rued.
(complete poem)
Joyce Grenfell (1910-79), If I Should Go

The English poet and entertainer (pictured right) tells people to enjoy life even after her death:
Weep if you must
Parting is hell
But life goes on
So sing as well.
Emily Dickinson (1830-86), Hope Is The Thing With Feathers (1891)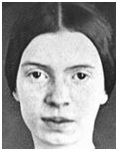 The American poet (pictured right) writes about the importance of hope (described as a bird):
Hope is the thing with feathers
That perches in the soul,
And sings the tune without the words,
And never stops at all,

And sweetest in the gale is heard;
And sore must be the storm
That could abash the little bird
That kept so many warm.

I 've heard it in the chillest land,
And on the strangest sea;
Yet, never, in extremity,
It asked a crumb of me.
(complete poem)
Percey Shelley (1792-1822), Prometheus Unbound (1820)

This inspirational verse is from Shelley's (pictured right) play, Prometheus Unbound:
To suffer woes which Hope thinks infinite;
To forgive wrongs darker than death or night;
To defy Power, which seems omnipotent;
To love, and bear; to hope till Hope creates
From its own wreck the thing it contemplates;
Neither to change, nor falter, nor repent;
This, like thy glory, Titan, is to be
Good, great and joyous, beautiful and free;
This is alone Life, Joy, Empire, and Victory.
William Shakespeare (1564-1616), Sonnet 29

Shakespeare (pictured right) says find optimism in love:
Haply I think on thee, and then my state,
Like to the lark at break of day arising
From sullen earth, sings hymns at heaven's gate;
For thy sweet love remember'd such wealth brings
That then I scorn to change my state with kings.
(last five lines)