Michael Vaughan Leadership
Michael Vaughan (1974- )
Most successful English cricket captain (pictured right) in recent years, winning the Ashes in 2005 against Australia for the first time since 1987.
Why was he a great leader?
1. Teamwork, talent and purpose
He and head coach, Duncan Fletcher turned a group of talented individuals into a great team with a common purpose to win matches.
They also had a great backup team to help them like the physiotherapists and bowling and batting coaches. Vaughan made a big effort to compliment them all and make them feel part of the team.
He believed that one player's problem is everybody's problem.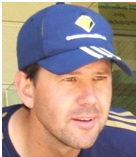 Everyone, including Vaughan, was treated the same, sharing the same rewards of success and the same pressures of failure.
He reinforced players' camaraderie by being the first England captain to get them to celebrate in a huddle on the pitch (for example, in 2005 after Ashley Giles had dismissed the Australian captain, Ricky Ponting, pictured right).
2. Preparation and planning
Vaughan and Duncan Fletcher worked incredibly hard to make the most of their team's strengths and exploit their opponents' weaknesses.
In the field Vaughan was always thinking about the next ball, field placements, bowling changes and what his opponents would do.
3. Tough love
He looked after his players, encouraging and praising them when they needed it.
He was first among equals - "Nobody is on a pedestal and nobody looks up to anybody else", he said.
But he was tough enough to:
be decisive, when quick decisions were needed in the field (like taking off a bowler);
make the difficult decisions (like dropping Graham Thorpe in favour of Kevin Pietersen, pictured right, for the 2005 Ashes series);
cajole his players to get the best from them (like making a fast bowler angry).
4. Leading by example
He led from the front. He
practised what he preached.
kept cool under pressure.
earned the players' respect with his honesty, integrity, gratitude, encouragement and ability as a player.
5. Self-belief
He had enormous self-belief in his own ability and communicated this self-confidence to the rest of the side.
6. Empowerment
Vaughan:
made each player responsible not only for their own performance, but also for the results of the team.
wanted the whole team to be captains with everybody contributing to the team effort without challenging his authority.
set up a "think tank", a small group of senior players contributing their ideas about how they should play.

7. Single-mindedness
He was totally focused on his team's success.
When Steven Harmison got nine wickets in one innings against the West Indies, Marcus Trescothick (pictured right) , the vice captain, got him a stump, but Vaughan was off, getting his pads on for the England innings!
8. Fun
He believed in celebrating success, and having fun and a good laugh both on and off the field.
He says one of the most important rules of captaincy is to turn up with a smile on your face.
9. Luck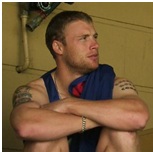 He was lucky to have great players like Andrew Flintoff (pictured right) and meet sides like Australia and the West Indies when they weren't as strong as before.
In 2005 Australia's star bowler Glenn McGrath was also injured at a critical time, and England suffered only one injury (when Simon Jones missed the last match).
10. Relaxed perspective
He was relaxed about cricket, because "it's not life and death", he said.
So he treated triumph and disaster the same. After defeat in the first match against Australia at Lord's in 2005, he still had a smile, kept the same team and looked quietly confident.
11. Support
He has a loving wife, Nichola (pictured right together after winning the Ashes in 2005), who totally supported his cricket career.
12. Learning and selection
He picked the right players, listened to their views and learned from them and other cricketers (like the former England captains, Nasser Hussain and Mike Atherton).

Key quotes on leadership
The art of captaincy is to motivate your players into giving everything.
Good captains are born, not made, and there is no manual you can produce to do the demands of the job justice.
First and foremost, you have to have the respect of those you are leading.
Key quotes on teams
The team is the important thing, not the individuals.