Poetry - Creativity and Innovation
William Blake (1757-1827), The Schoolboy (1794)
The English poet (pictured right) emphasizes the danger of restricting people's freedom and creativity:
How can the bird that is born for joy
Sit in a cage and sing?
Louis MacNeice (1907-63), Fanfare for The Makers

The Northern Irish poet (pictured right) describes a "fanfare for the makers", giving recognition for creative people who do small things:
To all the things we are not remembered by,
Which we remember and bless. To all the things
That will not notice when we die,
Yet lend the passing moment words and wings.
(lines 4-7)
MacNeice ends the poem with other people's perhaps greater achievements:
In an empty nonchalent sky, as anglers play
Their fish, as workers work and can take pride
In spending sweat before they draw their pay.
As horsemen fashion horses while they ride,
As climbers climb a peak because it is there,
As life can be confirmed even in suicide:
To make is such. Let us make. And set the weather fair.
William Wordsworth (1770-1850), The Solitary Reaper

The English poet (pictured right) describes a Scottish reaper whose creative work is helped by her enjoyment and inspirational singing :

Behold her, single in the field,
Yon solitary Highland Lass!
Reaping and singing by herself;
Stop here, or gently pass!
Alone she cuts and binds the grain,
And sings a melancholy strain;
O listen! for the Vale profound
Is overflowing with the sound.
Whate'er the theme, the Maiden sang
As if her song could have no ending;
I saw her singing at her work,
And o'er the sickle bending;-
I listened, motionless and still;
And, as I mounted up the hill,
The music in my heart I bore,
Long after it was heard no more.
(first and last verses)
Robert Herrick (1591-1674), Delight in Disorder (1648)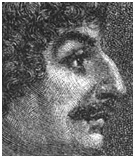 The English poet (pictured right) observes how creatively productive disorder can be
In line 2, for example, it gives clothes "wantonness" i.e. sexual attractiveness!
In line 3 a "lawn" is a clothing fabric like cotton, and in line 6 a "stomacher" is jewelled (or embroidered) stiff cloth.
A sweet disorder in the dress
Kindles in clothes a wantonness:
A lawn about the shoulders thrown
Into a fine distraction:
An erring lace which here and there
Enthrals the crimson stomacher.
(first six lines)
Robert Frost (1874-1963), Stopping By the Woods On A Snowy Evening (1923)

The American poet (pictured right) comments on life's creative purpose:
The woods are lovely, dark and deep,
But I have promises to keep,
And miles to go before I sleep
(lines 14-16)
There's lots to do ("promises to keep") before death ("sleep"), and the journey of life is "lovely" as well as difficult ("dark and deep").
John Keats (1795-1821), A Thing of Beauty (Endymion)
The English poet (pictured right) describes the joy of seeing something beautiful:
A thing of beauty is a joy for ever:
Its loveliness increases; it will never
Pass into nothingness; but still will keep
A bower quiet for us, and a sleep
Full of sweet dreams, and health, and quiet breathing.
(first five lines)
Wendy Cope (1945- ), Differences of Opinion
The English poet (pictured right) describes an argument between a woman and man who refuses to change his mistaken view that the world isn't round:
She cannot win. He stands his ground.
The planet goes on being round.
(last two lines)
Emily Dickinson (1830-96), Much Madness Is Divinest Sense (1862)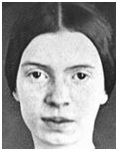 The American poet (pictured right) says stand by your views, even if the majority thinks you're mad:
Much Madness is divinest Sense -
To a discerning Eye -
Much Sense - the starkest Madness -
'Tis the Majority
D.H. Lawrence (1885-1930), Things Men Have Done (1929)
The English poet and author of Sons and Lovers (pictured right) praises the workers' creativity and their legacy for future generations:
Things men have made with wakened hands, and put soft life into
are awake through years with transferred touch, and go on glowing
for long years.
And for this reason, some old things are lovely
warm still with the life of forgotten men who made them.
(complete poem)
John Davidson (1857-1909), Imagination

The Scottish poet (pictured right) describes the creative power of imagination:
Imagination, new and strange
In every age, can turn the year;
Can shift the poles and lightly change
The mood of men, the world's career.
(last verse)