Nick Park - Creativity and Films
Nick Park (1958- )
English film animator (pictured right in 2005)
Oscar winning creator of Wallace and Gromit, the plasticine stars of films like Chicken Run.
Why is he so creative?
1. Constant learning
He has learned from:
a) his parents
A key moment was when his father bought him a camera, which he used to film his pet hen and rat in the attic!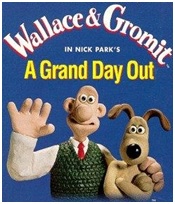 b) education
His English teacher showed his films to the rest of the school.
Then he studied at:
Sheffield Polytechnic (where he started work on his first Wallace and Gromit film, A Grand Day Out, pictured right).
the National Film and Television School.
c) his love of comic and literary characters
(like Rupert the Bear, pictured right below, and the characters in Beano magazine).
He has always loved clay animation and drawing cartoons, since his childhood in Preston, when he made his first one minute animated film, the Rat and the Beanstalk.
d) movies
(particularly the British Ealing comedies).
e) experience
Learning from his experiences (see point 2) and trial and error have been vital to his success.
2. Inspiration
His films are inspired by: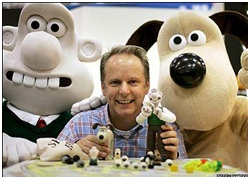 a) the world around him
(because he's extremely observant and reflective).
The animals in his first Oscar winner, Creature Comforts (1989), came from Bristol Zoo.
Wallace is based on his father and Gromit on himself.
Park is pictured right with a large Wallace (left) and Gromit. He is holding the right sized Wallace and Gromit!
b) intuition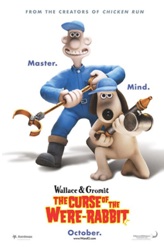 (to decide when the stories and plasticine characters are right)
This intuition is based on great affinity with his characters, who he describes as. "friends"
c) asking the right questions
The Oscar winning The Curse of the Were-Rabbit, pictured right, was born by asking his colleagues in a Bristol pub:
"How can we do a horror picture with Wallace and Gromit?"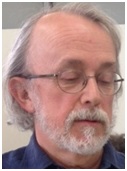 3. Teamwork
In 1985 he joined Aardman Animations in Bristol (where he still works).
There he benefits from:
the production expertise of its founders, Peter Lord (pictured right) and David Sproxton, pictured right below, (who had inspired Park as a boy with their animation on the TV programme, Vision On).
a talented team of animators, model makers and writers (particularly Steve Box).
Movies are an expensive business, so Park and Aardman teamed up with the Hollywood studio, DreamWorks, makers of Shrek, to produce Chicken Run in 2000.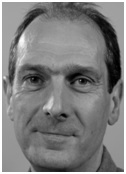 But the partnership ended in 2006 after the commercial failure of:
The Curse of the Were-Rabbit (despite it winning an Oscar).
the computer animated, Flushed Away (2006).
They have now teamed up with Sony Pictures.
4. Technical brilliance
Wallace and Gromit films use the "stop motion" animation technique with these stages:
a) sketching lots of story ideas onto a storyboard
(over several months by Park and his colleagues, from which the story comes).
He has to be brutal, because he only uses about 10% of these ideas.
b) shooting each frame
(moving the plasticine characters slightly every time to give the impression of movement).
It takes one of his 50 model makers three months to make a Wallace
There can be up to 50 Wallaces (23 cm high) in use at any one time during filming!
c) joining all the frames together.
(to create the final film)
A second of film constitutes 24 separate frames, and nearly a day's work in the studio.
The Curse of the Were-Rabbit and Chicken Run both took five years to make!
5. Vision and continuous improvement
Park (pictured right filming) is fanatical about keeping his Wallace and Gromit characters based on:
middle class England (with lots of honour and humour).
an idealistic fantasy world (similar to the 1940's Ealing comedy films he loves so much).
But he doesn't want to do Wallace and Gromit films all the time and is constantly pushing himself to try new things.
"To me, there's always got to be a new challenge", he says.
6. Customer delight
Wallace and Gromit films are extremely popular because of their:
But, when he created them at university, he:
didn't have a particular audience in mind
relied on his instinct about what he, and his fellow students, would like.
He never talks down to his children fans, but his films:
are not specifically made for them.
7. Dedication and determination
He never gives up despite his films being technically difficult and very hard work.
A Grand Day Out took six years to make, during which he suffered occasional depression and unemployment.
But he loves his work, driven since childhood by his dream of becoming a great animator.
Despite his Oscars and great wealth, he:
lives simply in a small cottage near Bristol.
is a bachelor who lives for movies.
He seized the wonderful opportunity of working at Aardman, surviving with great determination the:
poverty of his student days.
studio fire in 2005 that destroyed most of his plasticine model characters and sets.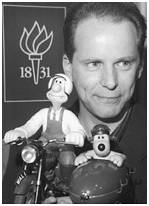 8. Passion with integrity
Park (pictured right with Wallace and Gromit):
is passionate about creativity.
loves imaginative tinkering with new ideas.
doesn't let money compromise his pursuit of artistic excellence.
"Do what you do with integrity" is his golden rule.
9. Relaxation
He likes to closely control the making of his films, which is exhausting and stressful as well as thrilling for him.
So his favourite pastimes, walking and watching wildlife, are vital to refresh his mind.
10. Religious purpose
His faith in God ensures he stays true to himself and his principles, despite all his fame and fortune.
He says that the biggest enemy of success is wanting it too badly.
Key quotes on creativity
With anything creative, you get fired up and absorbed by the idea.
I have to constantly challenge myself to keep a sense of originality all the time.
The time you spend experimenting without commercial pressure is very valuable.
Key quote on change
We have to look forward and keep filming new films and not get stuck in the past.
Key quote on customers
If I'd set out to win an Oscar, or set to target a particular audience, I don't think I would have done it.
Key quote on work and leisure
I'm married to my work I suppose, although it's no substitute.