Alex Ferguson Leadership
Alex Ferguson (1941- )
Scottish manager of Manchester United football (or soccer) club 1986-2013, and enormously successful, as he was at his previous club, Aberdeen.
Why was he a great leader?
1. Great motivator and communicator
He was famous for his:
small gestures of kindness (like meeting every new player at Manchester airport),
skilful use of the media.
At half-time in the 1999 European cup final, and 1-0 down, he said,
"At the end of this game, the European Cup will be only six feet away from you and you'll not even be able to touch it if we lose".
They won 2-1 after two goals in injury time.
2. Respect and charisma
His players called him "The Boss" and respected him for his:
a) ability, infectious enthusiasm and humour
b) refusal to criticize them in public and protecting them from the media
(like supporting David Beckham, pictured right, after his sending off in the 1998 World Cup).
c) integrity
His players always knew that he:
wasn't afraid to punish their transgressions (as he did when he arrived at Manchester United, immediately confronting the heavy drinkers)
Despite their differences, Beckham says that Ferguson was the greatest manager and makes "players feel special".
3. Tough but tender
He was an extremely competitive, aggressive and sometimes cruel disciplinarian, who:
This led to his big bust up with David Beckham, throwing a boot at him and selling him to Real Madrid.
Ferguson was famous for his "hairdryer treatment" – abusively and angrily pointing out players' mistakes in the dressing room after a game.
But he had a soft side. He burst into tears, when a player (Gordon Strachan) told him how his family had suffered because of his career.
4. The will to win
Ferguson (pictured right in 1992) was obsessed with winning and would do anything to do it (like attacking opposing managers).
He was enormously determined and showed his mettle by winning the FA Cup in 1990 after facing dismissal earlier in the season.
His loving parents, and love of football made his poor upbringing in Govan (near Glasgow) the foundation of his success.
He eventually played for Glasgow Rangers.
5. Good tactician
In the 1990s he was the first manager to use a lightning counter-attack as a deliberate tactic, later copied by Arsenal.
His favourite team formation was 4-4-2, and his substitutions were sometimes inspired.
6. Intelligence, intuition and improvement
He used his good brain and outstanding memory for faces and information to analyse the team's performance and plan its long-term future.
He was never complacent, continually trying to improve the team, even when it was successful.
In 1995, he changed the League and FA Cup winning side and introduced young players like Beckham (pictured right as a young boy with Ferguson), Ryan Giggs and Paul Scholes.
7. Passion, energy and self-belief

A youth leader, Johnny Boreland, inspired his love of football, when he was aged 12.
His passion for the game was noticed on their first meeting by the Manchester United legend, Bobby Charlton (pictured right), who said: "He lives football".
This passion encouraged him to stay on after saying he would retire at 60.
He had lots of stamina (arriving at work around 7.15 after only four or five hours sleep) and confidence in his ability.
8. Learning
He learned the value of, loyalty, hard work and determination from his parents.
His father also taught him the importance of humility (a particularly difficult lesson for him).
His toolmaker and trade union job at the Remington Rand typewriter factory, near Glasgow, helped his people management and negotiating skills.

His hero, the Scottish manager, Jock Stein, pictured right, taught him the "siege mentality" tactic (convincing his players the world is against them, so making any problems seem like a blessing).
He also learned from his boss at Aberdeen, Dick Donald, and his sacking as manager of St. Mirren in 1978.
9. Great people
He found great players (including vigorous recruitment of schoolboys nationwide) and encouraged them to be self- disciplined.
Stay quietly at home and "eat your greens and enjoy sex", he told them.
In December 2006 he named his five greatest players: Peter Schmeichel, Eric Cantona, Ryan Giggs, Wayne Rooney and Roy Keane (but not Beckham!).
He has also been helped by able assistants: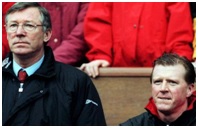 Pat Stanton (at Aberdeen).
Steve McClaren ,the former England manager, pictured right together, and Brian Kidd (at Manchester United).
Their kindness and encouragement counterbalanced Ferguson's toughness and volatility.
10. Relaxation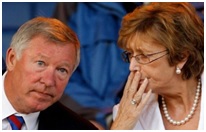 As much as his dedication to work allows, he loves being with his three sons and wife, Cathy (pictured right together), who he called:
"the key figure in my career...a bedrock of stability and encouragement".
He also likes cooking and horse racing.
Key quotes on motivation
For a player...there is nothing better than hearing 'well done'.
Don't you dare come back in here without giving your all, half-time talk in the 1999 European Cup final that brought Manchester United from 1-0 behind to a 2-1 victory.
Key quotes on leadership
Loyalty has been the anchor of my life.
Make sure you keep the momentum going...that the flow of new blood is coming into the team all the time. If you stop you suffer the consequences.
I tell the players that the bus is moving. The club has to progress. And the bus wouldn't wait for them. I tell them to get on board.