Jim Collins and Jerry Porras, Built to Last (1994)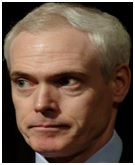 Collins is an American management expert on business success (pictured right).
Worked at Stanford Business School in California with Jerry Porras (pictured right below), where they wrote the book.
See also...
Jim Collins in the Management Gurus section.
Book summary
What is a great company?
The best ("visionary") companies are built to last, because they balance:
continuity (from everlasting values and purpose).
change (continually adapting to changing customer requirements).
"To be built to last you must be built to change" (Jim Collins wrote in the preface to the 2004 edition) - see point 1 below.
What makes visionary companies great
1. Preserve the Core/Stimulate Progress
2. Envisioned future
3. Inspired employees
4. Genius of the AND
5. Evolutionary progress
6. Great leadership
Here are these six points in more detail:
1. Preserve the Core/Stimulate Progress
A visionary company:
preserves (never changes) its core ideology – see below.
changes (constantly) its business practices and strategies (in response to external changes like different customer needs).
Core ideology (the organization's soul and character) consists of
core values (everlasting guiding principles).
core purpose ("fundamental reasons for existence beyond just making money" which should last at least a 100 years).
This core ideology:
inspires change (by exciting people inside the organization).
is discovered from the values employees are passionate about (cynicism will result, if values aren't shared by everyone).
doesn't necessarily have to be written down in a vision or mission statement.
isn't a core competency (Sony's competency is miniaturization but its ideology is based on creatively using technology for the benefit of the public - see below)
Two further points...

a) core ideology helps global companies
A global visionary company applies its core ideology globally but changes its practices and strategies to suit local cultures and markets.
b) don't confuse strategy with ideology
For example, quality may be a vital strategic objective but not a core value (why? Quality won't be an everlasting value, if competitors achieve the same quality)
Examples of core values

Merck (American pharmaceutical company)
Corporate social responsibility.
Unequivocal excellence in all aspects of the company.
Science based innovation.
Profit, but profit from work that benefits humanity.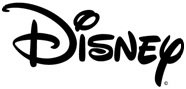 Walt Disney
Nurturing and promulgating "wholesome American values".
Creativity, dreams and imagination.
Fanatical attention to consistency and detail.
Preservation and control of the Disney magic.
Sony
Elevation of the Japanese culture and national status.
Being a pioneer – not following others; doing the impossible.
Encouraging individual ability and creativity.
Examples of core purpose
Merck
To preserve and improve human life
Walt Disney
To make people happy
Sony
To experience the joy of advancing and applying technology for the benefit of the public.

3M (makers of Scotch tape and Post-It notes)
To solve unsolved problems innovatively.
2. Envisioned future

This consists of two parts:
a) Big Hairy Audacious Goals (BHAG's)
Great companies set themselves extremely challenging objectives for 10-30 years ahead (BHAG's).
Examples are:
Become the dominant firm in the commercial airline market (Boeing, 1950)
Democratize the automobile (Ford Motor Company, early 1900's).
To put an American safely on the moon by the end of the 1960's (President John F. Kennedy's, pictured right, announcement in 1961).
Become the Harvard of the West (Stanford University, California, 1940's)
But don't be complacent – when you've achieved a BHAG, immediately replace it with another.
b) Vivid description

An inspiring description of what it will be like to achieve the BHAG.
For example, Henry Ford (pictured right) wanted to make the price of a car so low that "everyone will have one".
Sony's vivid description said:
"Fifty years from now, our brand name will be as well known as any in the world... and will signify innovation and quality that rival the most innovative companies anywhere".
3. Inspired employees
Only one per cent of success is defining your core ideology and envisioned future, the rest depends on inspired people who brilliantly implement them.
"The crucial variable is not the content of a company's ideology, but how deeply it believes its ideology and how consistently it lives, breathes, and expresses it in all that it does", Collins and Porras say.
Visionary companies aren't suited to everyone. They are "cult-like cultures" in which company values are: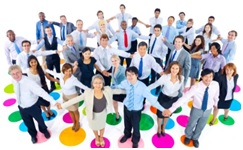 indoctrinated by management.
held with religious zeal.
supported by extremely high performance standards.
Companies will be great, only if their people truly believe in their values and purpose.
4. Genius of the AND
Visionary companies don't believe in choosing between two apparent opposites (the "Tyranny of the OR") but doing both simultaneously (the "Genius of the AND").
For example:

strongly held values ("cult-like cultures" – see point 3)

and

individual autonomy and desire for change.
making money

and

living according to values and purpose.
challenging aims (Big Hairy Audacious Goals – see above)

and

evolutionary (incremental) improvement (see point 5).
long term

and

short term performance
5. Evolutionary progress
To be successful, great companies don't rely on strategic planning but evolutionary progress through: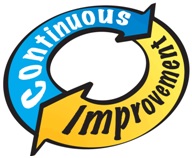 trying new ideas and products (from experimentation, trial and error, market opportunism and accident).
taking small steps (to minimize the impact of failure).
persistence (accepting and learning from mistakes).
continuous improvement (so great companies win the long race, even after a slow start).
Improvement is achieved by focusing not on beating competitors but on constantly asking the question:
"How can we improve ourselves to do better tomorrow than we did today?"

Great companies:
have extremely high standards.
are never complacent, or satisfied with their results.
6. Great leadership
The best leaders are "clock builders, not time tellers".
In other words, they are most concerned with building a great institution (like the Founding Fathers who created the American Constitution).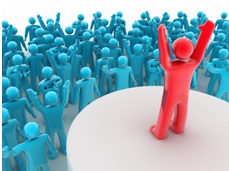 Time telling ("having a great idea or being a charismatic visionary leader") isn't so important in great companies.
A charismatic visionary leader:
is not required for a great company
may be detrimental to its long term prospects.
Leaders of great companies are much more likely (by a factor of six) to be promoted internally.
Key quote on corporate culture
The crucial variable is not the content of a company's ideology, but how deeply it believes its ideology and how consistently it lives, breathes, and expresses it in all that it does.
Key quotes on change
Contrary to popular wisdom, the proper first response to a changing world is not to ask, "How should we change?" but rather to ask, "What do we stand for and why do we exist?"
The very fact that purpose can never be fully realized means that an organization can never stop stimulating change and progress in order to live more fully to its purpose.
Key quotes on business success
To be built to last you must be built to change (Jim Collins, preface, 2004 edition).
The real question to ask is not "Is this practice good?" but "Is this practice appropriate for us - does it fit with our ideology and ambitions?"
Key quote on human resource management
For it is through the power of human organization - of individuals working together in common cause—that the bulk of the world's best work gets done