How Green Was My Valley - Success, Ethics and Trade Unions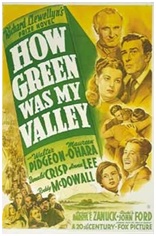 How Green Was My Valley (1941)
Famous for...
The realism of the outdoor set built in Southern California - a row of houses sloping uphill toward the mine colliery. It couldn't be filmed in South Wales because of the Second World War.
Making the Irish actress, Maureen O'Hara, a Hollywood star (best known for her role in the Christmas classic, Miracle on 34th Street, when the real Santa Claus arrives in New York City!)
Winning the best film Oscar ahead of Orson Welles' (pictured right) classic, Citizen Kane.
Set in...
A coal mining village in South Wales during the 1890's.
Based on...
Welshman Richard Llewellyn's 1939 novel, How Green Was My Valley.
Director
John Ford (pictured right), winner of the best director Oscar for a record four times - for this film and:
The Quiet Man (also starring Maureen O'Hara, his favourite actress).
Oscars
Five including:
best supporting actor (Donald Crisp as Gwilym Morgan).
Key characters
Gwilym Morgan (Donald Crisp), coal miner.
Angharad Morgan (Maureen O'Hara), his beautiful daughter (pictured right).
Huw Morgan (Roddy McDowall), his son.
Mr. Gruffydd (Walter Pidgeon), preacher.
The story
Huw Morgan looks back to the 1890's as a ten-year-old boy in a Welsh mining village (pictured right below). He is the youngest son of: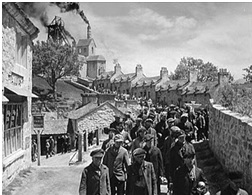 Huw also has
a beautiful sister (Angharad).
five brothers (also miners): Ianto, Ivor, Davy, Owen and Young Gwilym.
At Ivor's wedding to Bronwyn, Angharad instantly falls in love with the new preacher, Mr. Gruffydd.
The mine owners cut the miners' wages and a strike is organized by their union. It's supported by Huw's brothers but not by his father who is:
courageously defended by his wife.
The strike lasts many months and the miners (without pay) get hungrier and more desperate.
Angharad regularly invites Gruffydd to supper.
Gruffyd then:
helps Huw's miraculous gradual recovery (from paralysis suffered rescuing his drowning mother).
gives him books including Treasure Island.
(Gruffyd and Huw are pictured right below)
But Ianto, now very active in the union, tells Gruffydd that God is wrong to allow suffering and poverty. Gruffydd (an ex-miner) responds by supporting the union so long as the workers act responsibly.
The strike ends but Owen and Young Gwilym lose their jobs. Their mother is heartbroken , when they emigrate to America, but Ivor and his choir are invited to sing for Queen Victoria at Windsor Castle.
Angharad criticizes Gruffydd for allowing the expulsion of a humiliated unmarried mother (Meillyn Lewis) from his church, even though he sees her point of view.
The mine owner, Mr. Evans, unexpectedly visits the Morgans' house and says that his pompous son, Iestyn, wants to marry Angharad.
Gruffydd says she'd be better off rich than suffer his poverty. So broken-hearted Angharad marries Iestyn (pictured right below), and they go to Cape Town, South Africa.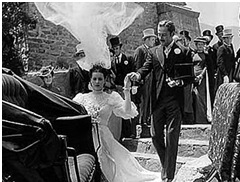 Huw (with Gruffydd's help) becomes the first person in the family to pass the entrance exam to the local school. But he is ridiculed by his sadistic teacher, Mr. Jonas, and bullied by another boy, Mervyn Phillips.
With the help of his father, Ianto and a village boxer, Dai ( with his friend, Cyfartha), Huw:
repeatedly knocks Mervyn down.
But he is viciously caned by Mr. Jonas and Ianto proudly carries Huw home.
Dai and Cyfartha then visit the school to give Jonas a lesson in boxing, and Dai knocks him out.
Meanwhile Ivor is tragically killed in a mining accident and his devastated wife, Bronwyn, gives birth to their son, Gwil.
Huw (pictured right with his mother):
graduates from school with distinction.
starts mining (against his father's wishes) to support Bronwyn.
Davy and Ianto lose their jobs, despite being the mine's best workers. Ianto emigrates to Canada and Davy goes to New Zealand.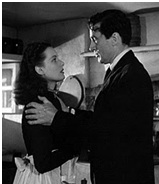 Angharad returns from Cape Town without her husband and lives in the big Evans house. Huw visits her, saying how sad Gruffyd is without her.
Gossip spreads that they are seeing each other (pictured right) and want to marry. This leads to Gruffydd's:
last sermon (preaching against the congregation's vengeful hypocrisy).
Huw follows him out of church as a gesture of support, and Gruffydd gives him his father's gold pocket watch.
There is an explosion in the mine. Angharad , her mother and Bronwyn rush there and are joined by Gruffydd who starts to rescue the trapped miners with the help of some volunteers including Huw and Dai.
Huw finds his father still alive but trapped by fallen rocks and timbers. He embraces him, as he dies (pictured right). The rescuers return (including a devastated Huw), and Angharad and Gruffydd are finally united in love.
Lessons for success, ethics and trade unions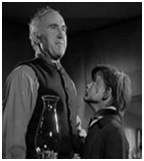 1. Work brings self-respect
Huw's father (pictured right together) and brothers are forced to be miners, even though it is a dangerous and dirty job.
Huw describes unwashable coal dust as:
"the honourable badge of the coal miner".
He also values his busy mother (a housewife) who is his home's "heart".
2. Unions may be necessary
The miners have a union to protect them from the ruthless mine owners who cut their wages and fire people, even good miners like Davy and Ianto.
But Gwilym: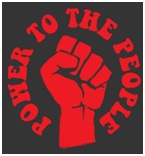 calls the union "socialist nonsense".
refuses to support the strike (unlike Huw's brothers).
Gruffydd tells Ianto:
"with strength goes responsibility".
injustice can be removed "only with justice and the help of God".
3. Be tough but tender
Huw's mother and father are both extremely kind and sensitive, but they are also incredibly tough, overcoming the:
4. Think and then act
Gruffydd tells Huw that the purpose of prayer is to:
think clearly about good things (like helping others).
5. Make the most of your present and future, and treasure your past
Gwilym is keen for Huw to get an education, so that he doesn't have to be a miner.
But Huw's treasured childhood memories show that hardship doesn't have to destroy happiness.

6. Never stop learning
Huw learnt from his family and Gruffydd who:
gave him books (like Robert Louis Stevenson's Treasure Island).
helped him get into school.
Gruffydd also values knowledge and truth, studying for 10 years as a miner to get a degree at Cardiff University.
"Conquer the world with truth" was Gruffydd's ambition as a young man.
7. Hate hypocrisy
Gruffydd's congregation is full of self-righteous hypocrites who:
wrongly accuse Angharad and Gruffydd of an affair.
cruelly expel him and the unmarried mother, Meillyn, from the church.
8. Love means more than money
Huw's close family are happy but poor, and Gruffydd disastrously encourages his beloved Angharad to marry the rich Iestyn. His self-sacrifice destroys her future.
Huw's father tells him that money must be spent to achieve what you value most, particularly family and friends (see point 9).
9. Family and friends matter
The Morgan family is incredibly loving and supportive.
Huw fondly remembers them and his friends who, despite their absence "remain a living truth within my mind" .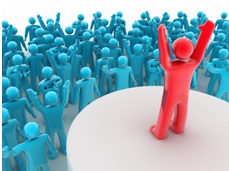 10. Integrity inspires
Huw's parents and Gruffydd are inspirational, because they:
11. Music is magical
Singing gives the people great happiness and relief from their poverty and hard work.
"Singing is in my people as sight is in the eye", Huw says.
12. God makes you good
Their belief in God inspires Gruffydd and Huw's parents to help others.
But there are also good people who are more sceptical about God. For example, Ianto can't understand why God allows suffering and poverty.
Gruffydd tells Huw that prayer is "good, direct thinking" that must be put into ethical actions.
Key quote on learning and wisdom
"Conquer the world with truth", Gruffydd's ambition as a young man.
Key quote on family
Men like my father cannot die. They are with me still - real in memory as they were in flesh, loving and beloved forever. How green was my valley then", Huw.
Key quote on careers
Why take brains down a coal mine?, Gwilym (to Huw).
Key quote on unions
Have your union. You need it. Alone you are weak. Together you are strong. But remember, with strength goes responsibility - to others and to yourselves, Gruffydd
Two film websites to recommend
1. filmsite.org (run by Tim Dirks).
2. aveleyman.com (run by Tony Sullivan)