City Lights - Happiness and Success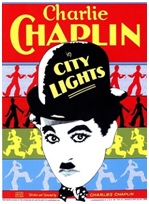 City Lights (1931)
Famous for...
Charlie Chaplin – its producer, director, co-writer and star (as his famous character, the Tramp with his baggy trousers, tight coat, cane and small hat).
Being Chaplin's greatest 'silent film' (with music and various sound effects but no speech or dialogue).
Chaplin chose as his co-star the socialite, Virginia Cherrill, pictured right, who had no acting experience. Her first scene with Chaplin needed 342 takes!

Director

Charlie Chaplin.
Oscars
None.
Key characters
The Tramp (Charlie Chaplin), the hero (small guy made good) - pictured right.
Young girl (Virginia Cherrill), a blind flower girl.
The story
The city mayor unveils an ugly monument only to reveal the Tramp sleeping on it. He can't climb down because the statue's sword has got stuck up his trousers (pictured right).
Once released, he is so transfixed by a female nude statue in a shop window that he nearly falls down a freight elevator shaft several times.
He is then smitten by a beautiful flower selling blind girl. She assumes he is a millionaire because she hears him in an expensive car (he's avoiding a policeman!). He gives her his last coin for a single flower for his buttonhole. They both dream of seeing each other again.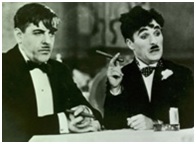 He becomes friends with a drunk millionaire after he saves him from suicide at the harbour and then at his mansion.
They go to a nightclub (pictured right) where the Tramp sets fire to a lady's dress with a cigar butt. They return to the mansion where the millionaire gives him his Rolls Royce and some money.
There the Tramp:
sees the flower girl (pictured right below).
gives her 20 dollars.
drives her home in the Rolls Royce (where she lives with her Grandma).
They agree to meet again, making him so love struck that he hardly notices the pain from a cat knocking a flowerpot on his head.
The millionaire (who only likes him when he's drunk) gets him thrown out of his mansion twice (once after a party).
The Tramp then:
discovers the girl is sick.
gets a job as a street cleaner to pay for a doctor.
This job involves:
cleaning up the excrement of an elephant and some horses.
giving his workmate a frothy sandwich (after accidentally replacing the cheese with soap).
He takes food to the girl who faces eviction by her landlord unless she pays a $22 rent bill (forcing her Grandma to sell her flowers).
The Tramp:
reads to the girl a newspaper article (about a Viennese eye specialist who can cure her blindness).
is fired the next day for being late.
is tempted to box a massive, muscle bound opponent for $50 (to pay the girl's rent).
He avoids his punches (pictured right), hiding behind the tall referee and strangling himself with the bell rope. But he is eventually knocked out cold.
Still looking for some money, he is reunited with the drunk millionaire who:
again invites him to his mansion.
gives him $1,000 to pay for the girl's eye operation.
But he is accused of stealing the money by the police and the millionaire (now sober after being knocked out by some real robbers). The Tramp realizes he must take the money to pay for the girl's rent and eye operation.
He escapes and gives the money to her with his savings ($100). He is then arrested and given a nine month prison sentence.
By the autumn the girl can now see again and runs a successful new flower shop with her Grandma, which he visits.
She touches his hand and realizes who he is (pictured right).
The film ends with his radiant smiling face.
Lessons for happiness and success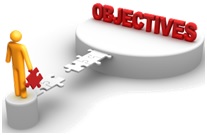 1. Purpose is vital
The Tramp is happiest when he has got something worthwhile to do like working to pay for the girl's doctor.
2. Do your best
The Tramp wasn't rich but he did all he possibly could to help the girl.
3. Friendship is faithfulness
The millionaire isn't a good friend, because he ignores and accuses the Tramp when he is sober.
In contrast the girl stays loyal to him, even when she sees him as a poor vagrant.
4. Self-respect is special
The Tramp is dejected when he feels worthless after being thrown out of the millionaire's mansion and later going to prison. But his love for the girl gives him:
5. Money matters
Life is miserable if you don't have the money to pay the bills like the girl's rent and medical expenses.
Money is particularly fulfilling if you use it to help others (as the Tramp helped the girl with his savings).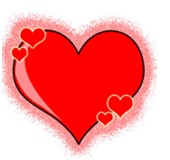 6. Love is lovely
Money isn't everything, because, like the Tramp and the girl, we also need love and support.
When she finally sees how poor he is, she still loves him because of all the kindness he has shown her.
7. Failures can win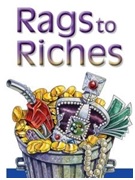 The Tramp still wins the girl of his dreams, despite his:
bad treatment by the millionaire.
8. Be positive
The Tramp saves the millionaire from suicide by saying:
"Tomorrow the birds will sing!" and
Two film websites to recommend
1. filmsite.org (run by Tim Dirks).
2. aveleyman.com (run by Tony Sullivan)